How To Style High Heels With Different Types Of Leggings?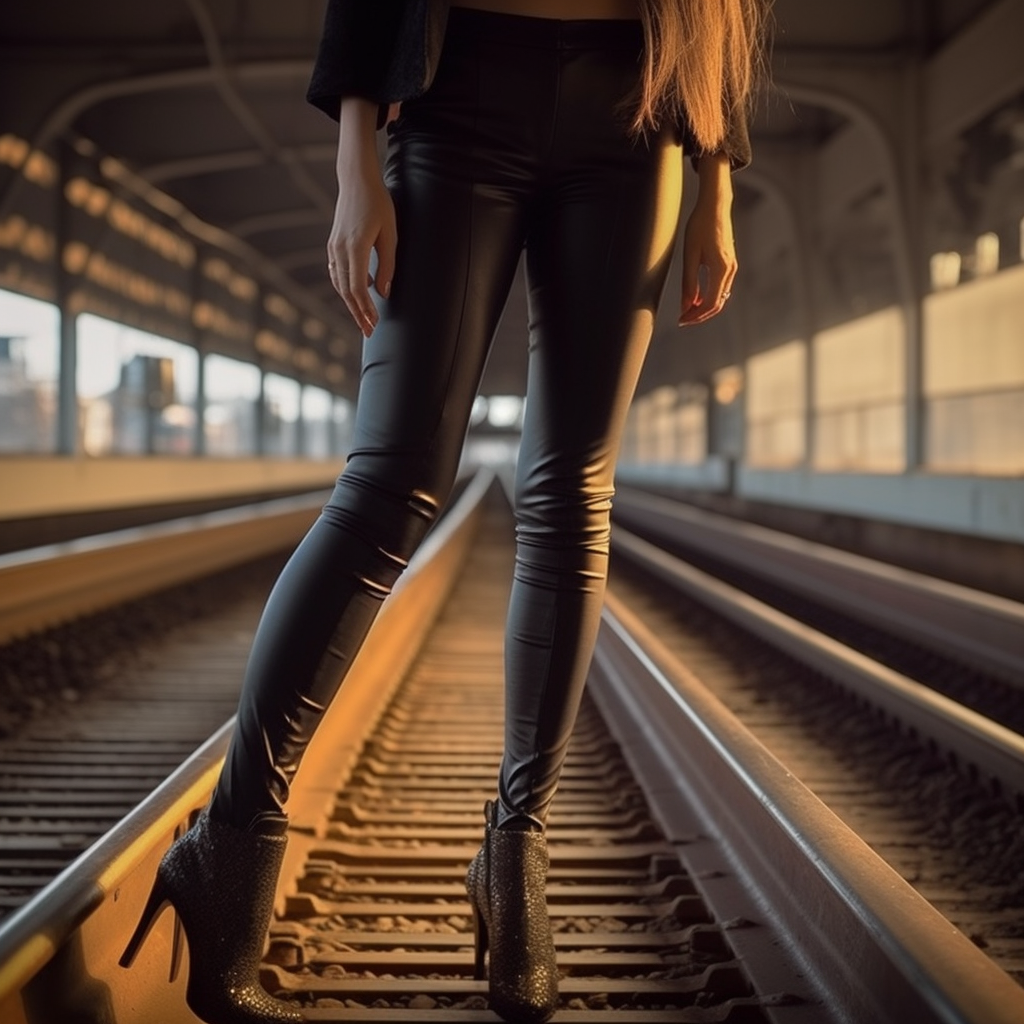 We've all been there: standing in front of the closet, debating whether to go with the classic black leggings and pumps or to mix it up with a bolder combination. With the right know-how, you can create an effortless, stylish look with high heels and leggings that will have everyone looking your way. Picture it: a scene of effortless elegance, where your stylish ensemble radiates confidence. Let us show you how to make it a reality.
We'll guide you through the process of finding the right leggings, selecting the perfect shoes, and creating a balanced look that will turn heads. And to top it off, you'll learn how to accessorize to make the outfit truly stand out. Comfort is key, so we'll help you make sure that your outfit looks as good as it feels.
Choose the Right Leggings
Let's explore how to put together a look with the perfect pair of leggings! With a few pairing tips and color combinations, you can have a stylish ensemble that includes leggings and high heels.
When selecting leggings, opt for a thicker material for a more substantial look. Textured leggings, such as those with a faux leather finish, are a great option to add more dimension to your outfit. For a sleek and sophisticated vibe, choose a solid black pair. If you're looking for a bolder look, select a pair in a brighter hue or with a fun pattern.
Make sure to look for leggings that fit your body type. If you want to show off your curves, choose a pair with a high waist and a slim fit. If you're looking for something more relaxed, select a pair with a wide waistband and a less snug fit. No matter what type of leggings you choose, they will look amazing when paired with high heels.
With the right leggings in tow, you can now select the perfect shoes to complete your outfit.
Select the Right Shoes
To make a bold statement, why not try pairing flats with your leggings? When it comes to selecting the right shoes to complete your look, there are two key aspects to consider: mixing textures and selecting colors.
When mixing textures, go for a combination of smooth and rough textures. For example, try wearing a pair of patent leather loafers or a pair of sleek pointed toe mules with a pair of leggings featuring a ribbed texture. If you're looking to make a statement, try pairing a pair of leggings with a pair of high-top sneakers or a pair of statement ankle boots.
In terms of selecting colors, opt for a neutral palette. Try a pair of black leggings with a pair of black knee-high boots, or a pair of white leggings with a pair of white ankle boots. You can also mix and match colors to make your outfit pop. For example, pair a pair of grey leggings with a pair of pink mules or a pair of navy leggings with a pair of bright red ankle boots. With a few simple pieces, you can easily create a balanced look.
By taking the time to consider your choice of shoes and leggings, you can create a look that is both stylish and eye-catching. Once you have the right shoes and leggings, the possibilities are endless!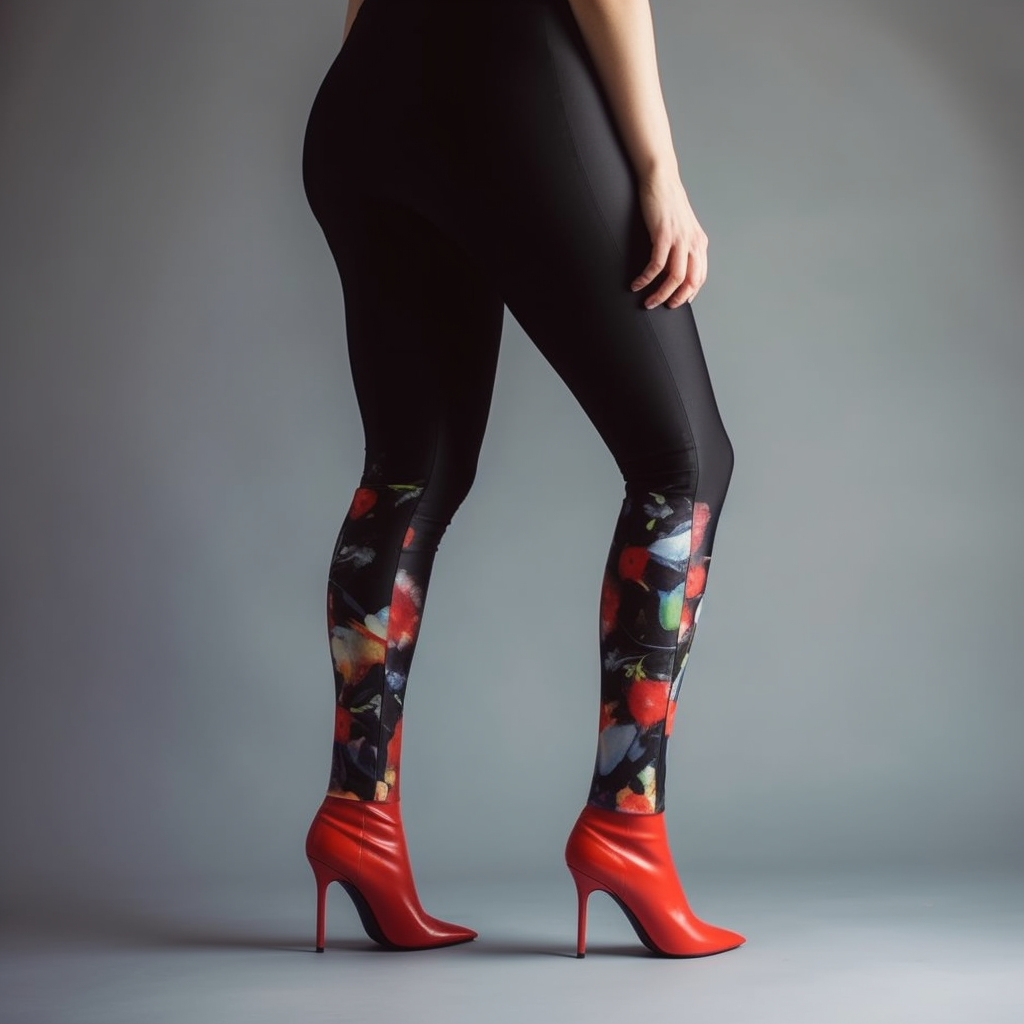 Create a Balanced Look
Mixing and matching textures and colors is a great way to create a balanced look and make a stylish statement. By mixing prints, color blocking, and layering clothes, you can easily make an outfit look more interesting and high fashion.
| Mixing Prints | Color Blocking | Layering Clothes |
| --- | --- | --- |
| Leopard Prints | Bold Colors | Jackets/Blazers |
| Floral Patterns | Neutrals | Scarves/Wraps |
| Stripes | Contrasting Colors | Vests/Cardigans |
To make the most out of the look, you should also consider how certain pieces fit together. When selecting high heels, look for a pair that has a flattering silhouette and pairs well with the leggings. For the leggings, make sure they fit comfortably and are the right length to flatter the shoes. The combination of the two will make a stylish outfit that will turn heads.
Accessorizing is also an easy way to elevate the look. Adding a statement piece such as a hat, necklace, or belt can add a touch of personality to an otherwise ordinary look. Don't forget to also add a purse or bag to tie the whole look together. Taking the time to carefully select the right pieces and combine them correctly can make the difference between a stylish look and an ordinary one. On to the next step of accessorizing for an elevated look!
Accessorize for an Elevated Look
Adding a few eye-catching accessories can instantly take your look to the next level! Whether it's a trendy hat, a bold necklace, or a pop of color with a belt, you can mix and match pieces to create a look that is truly unique to you. Sticking to timeless trends like a classic black blazer or a chic pair of sunglasses will ensure that your outfit looks polished and pulled together. And don't forget to add some sparkle with a pair of statement earrings!
Accessorizing your outfit doesn't have to be complicated. Have fun with it and experiment with different combinations of accessories to find the perfect look. Focus on quality pieces that have a timeless appeal, and you can be sure to create an outfit that will look just as good today as it will years from now.
Your accessories should not only be stylish but also comfortable. Pay attention to the materials and how they feel against your skin. Avoid materials that are too tight or constricting, and choose pieces that are lightweight and breathable. These small details can make a huge difference in how you feel and how you look.
Pay Attention to Comfort
Feel good while looking good – pay attention to the comfort of your outfit! Achieving a look that balances style and comfort is key when wearing high heels. The fabric selection of the leggings plays a huge role in how comfortable you feel in them. Here are some tips to keep in mind:
Fabric Selection:
Look for leggings made out of soft, stretchy materials like cotton, spandex, or a combination of the two.
Avoid leggings with too much texture and/or bulky fabric.
Heel Height:
Make sure the heel height of the shoe you are wearing is comfortable.
If you are new to wearing high heels, start with a lower heel height and gradually work your way up.
When selecting your leggings and shoes, it's important to take into consideration the type of event or occasion you'll be attending. For example, if you plan on attending a more formal event, you may want to choose a thicker fabric and a higher heel height. On the other hand, if you plan to attend a casual event, you may want to opt for a lighter fabric and a lower heel height. No matter what style you choose, make sure you feel comfortable and confident in your outfit!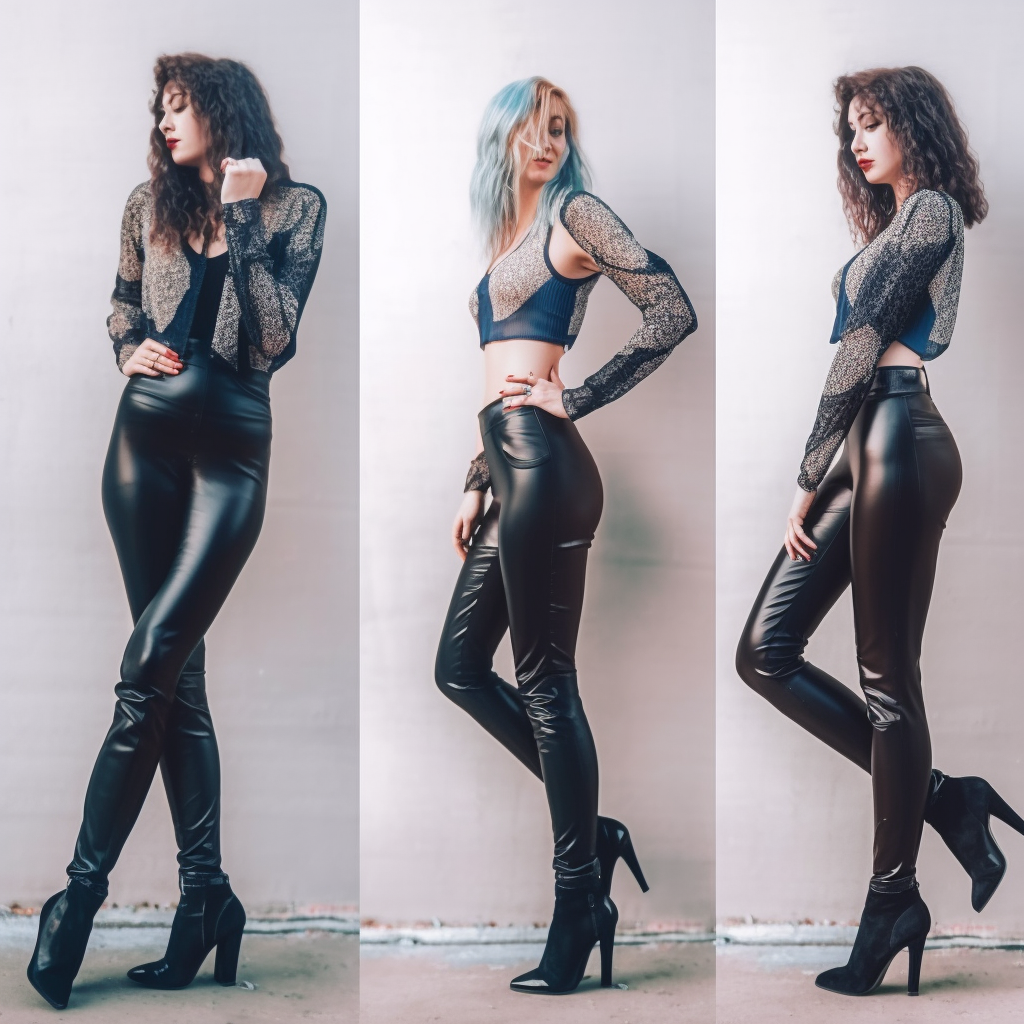 Conclusion
We've covered a lot of ground in this article. From choosing the right leggings to creating a balanced look, we've gone through a lot of tips and tricks to make sure your high heels and leggings look their best. We've even given you ideas on how to accessorize for an elevated look. However, one thing we haven't discussed is comfort. When you're wearing high heels, make sure you have comfortable leggings that won't impede your movement. Once you find the right combination of shoes and leggings, you'll be ready to take on any look with style and confidence.
So make sure to take the time to experiment with different combinations of shoes and leggings. With a little creativity and attention to comfort, you can create a look that is both stylish and unique. Who knows, maybe you'll discover a new favorite look that will take you from day to night with ease!