How To Match High Heels With A Floral Print Dress?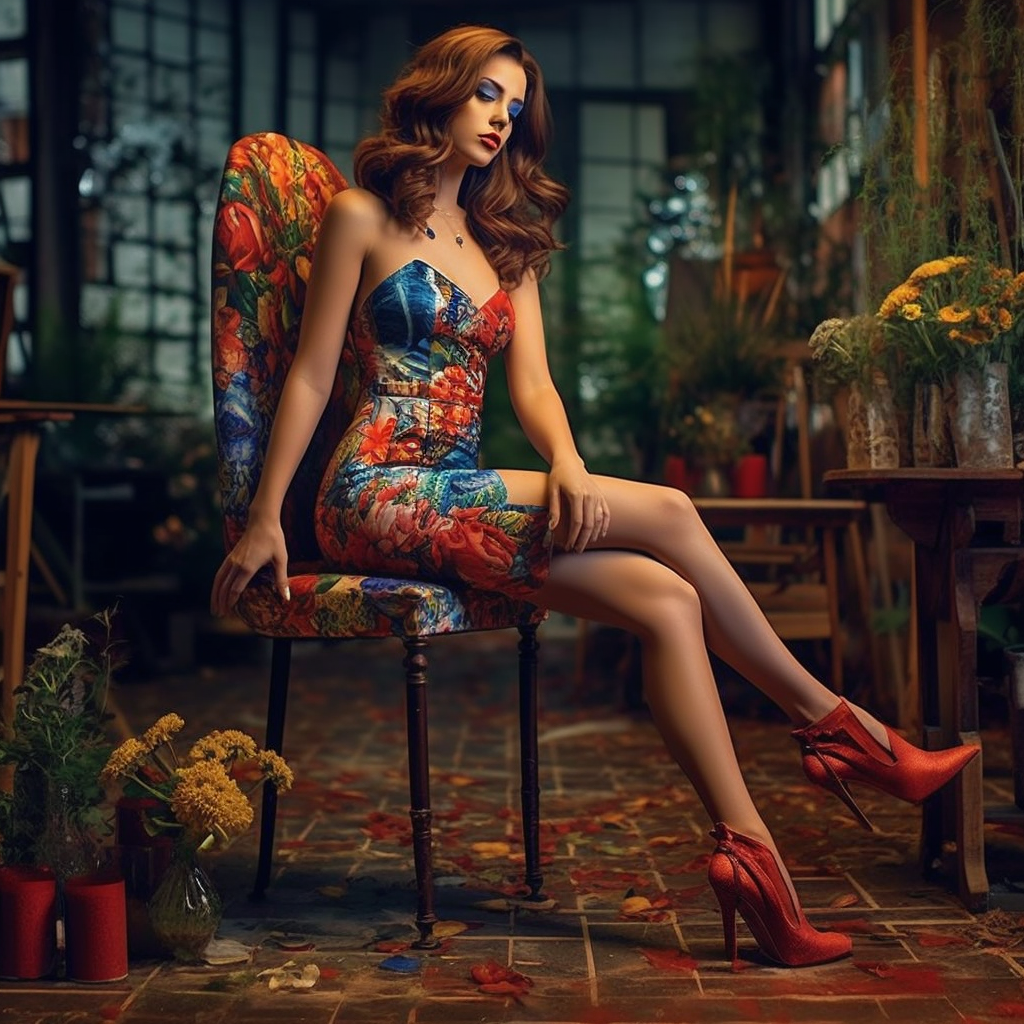 We all know that when it comes to fashion, it's all about the details. The right pair of shoes can make or break an outfit. One of the trickiest items of clothing to match with footwear is a floral print dress. To ensure you look your best, we've put together a guide on how to match high heels with a floral print dress. With our help, you'll be able to find the perfect shoes to complement your look. We'll show you how to consider the color of your dress, choose the right heel height, opt for neutral tones, select the right style, and accessorize appropriately. Let's get started and find the perfect pair of shoes to complete your look!
Consider the Color of Your Dress
When deciding what shoes to pair with a dress featuring a floral pattern, take into account the colors of the dress to ensure a complementary combination. Consider the various hues of the fabric for how they will look when paired with jewelry and other accessories. If the dress in question is a bright and bold color, opt for a more muted shoe, such as beige or black. If the dress has a more subtle palette, then a more vibrant or metallic hue in the shoe will draw attention to the overall look.
The fabric of the dress is also an important factor when pairing a shoe. For a flowing, lightweight fabric, like chiffon or silk, a high heel sandal with thin straps will give the look a delicate and elegant touch. On the other hand, a heavier fabric, such as tweed or linen, can handle a bolder shoe, like a platform pump or ankle boot.
Another way to ensure a complementary combination is to match the tone of the dress to the shoe. If the dress is airy and light, a pastel or nude colored heel can give the look a subtle sophistication. If the dress is more structured and bold, a metallic or patterned heel will make the overall look pop. With a bit of coordination and creativity, you can find the perfect shoe to pair with any floral print dress.
Choose the Right Heel Height
When it comes to choosing the right heel height for your floral print dress, it's important to find a balance between comfort and style. Choose a heel height that feels comfortable for you and complements your look. If you're looking for something that adds a bit of extra pizzazz, consider mixing patterns and matching textures. For example, you could pair the dress with a pair of strappy heels with a metallic finish. This will add a subtle sparkle to your ensemble and draw the eye to your feet. Alternatively, if you're looking for a more classic look, opt for a pair of block heels in neutral tones such as black, brown, or cream. These will provide enhanced stability and won't detract from the beauty of the floral pattern. Whatever heel height you choose, make sure it's one that allows you to feel confident and move freely. Transitioning seamlessly into the next section, it's also important to consider the tone of your dress.
Opt for Neutral Tones
Investigating the truth of opting for neutral tones can help create a classic look that stands out without detracting from the beauty of the dress. One way to do this is to add a pop of color, like a blush or cream shoe, to your ensemble. This will help to draw attention to the dress, while maintaining its delicate pattern. Another way to achieve this look is to play with texture. A velvet heel with a hint of gold or silver creates a luxurious look that will pair perfectly with the floral print. Finally, don't be afraid to mix prints. If you're feeling bold, try a pair of leopard print pumps to make the floral pattern really stand out. This look can be incredibly eye-catching and will certainly turn heads. As you begin to select the right style, consider what type of statement you want to make. Do you want to create a classic ensemble that will stand the test of time, or do you prefer something trendy and bold? The choice is yours!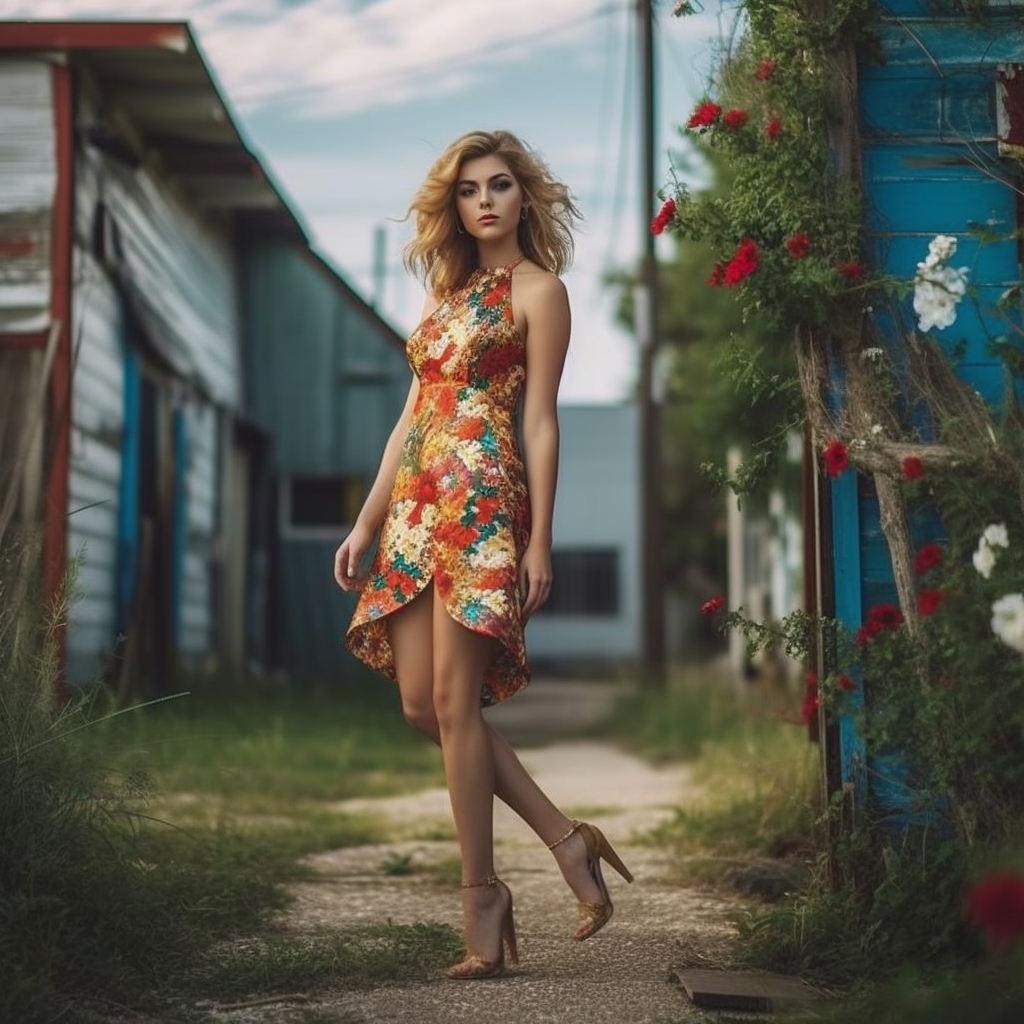 Select the Right Style
You can create a timeless look and make a statement by carefully selecting the right style for your ensemble. From blush pumps to velvet heels with a hint of sparkle, there are plenty of options to choose from that will elevate your look. When matching your high heels with a floral print dress, consider the following:
Mixing Patterns: If you're feeling daring, try pairing your dress with a printed or patterned heel. Look for a pattern with a complementary color or a similar style, like a floral or geometric print.
Texture Variations: If you want to add some dimension to your look, select a heel with a unique texture, such as velvet or metallic. This will help break up the look and add some visual interest.
Neutral Tones: If you're looking for a more subtle way to add a pop of color, opt for a neutral shade, like nude or black. This will help create a timeless, classic look that you can wear for years to come.
By choosing the right style, you can create a look that is both timeless and stylish. Now, it's time to accessorize appropriately to complete the ensemble.
Accessorize Appropriately
To complete your look, accessorizing appropriately is key, and with the right pieces, you'll be turning heads in no time! When choosing accessories to pair with your floral print dress, it's important to consider the colors, patterns, and style of the dress when making your selections.
| | | |
| --- | --- | --- |
| Jewelry | Heels | Shoes |
| Choose jewelry pieces that pick up the colors in your dress, as this will help pull together the look. For example, if your dress has mostly pink and blue flowers, choose jewelry pieces that feature one or both of those colors. | Look for high heels that complement the pattern of your dress. If your dress features a bold floral print, pick a shoe with a solid color to avoid clashing patterns. If the dress has a more subtle print, you can opt for a patterned shoe. | When selecting shoes, pick a pair with a heel height that is in proportion to the length of your dress. A shorter dress can be complemented with a higher heel, while a longer dress looks better with a lower heel. |
No matter what type of dress you're wearing, it's important to accessorize with pieces that are in balance with the dress. If you wear too many accessories, the look can be overwhelming. Too few accessories, and the look may come off as incomplete. Be sure to choose pieces that enhance the dress and make it stand out without being too overpowering. Remem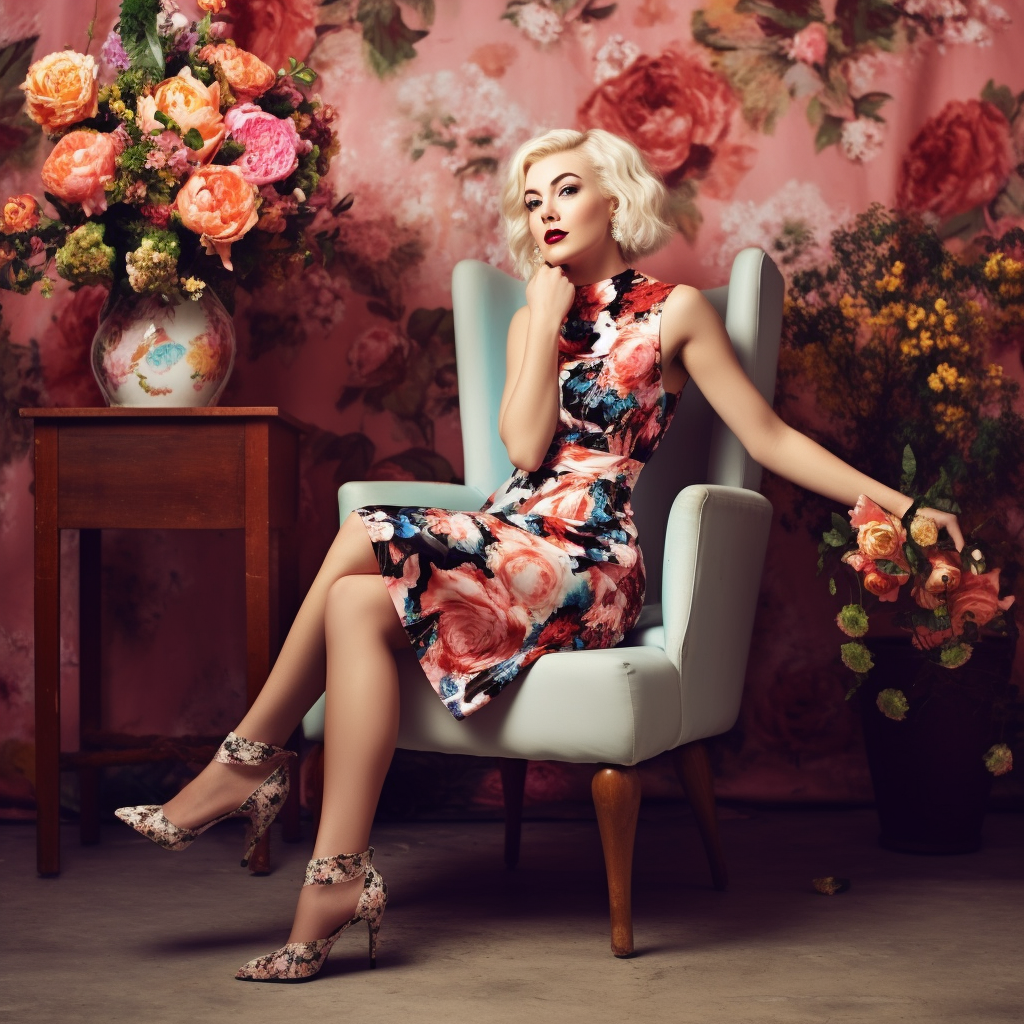 Conclusion
We've got it all figured out! Matching high heels with a floral print dress is easy-peasy. Just consider the color of your dress, choose the right heel height, opt for neutral tones, and select the right style. Then accessorize appropriately and you're good to go! Just make sure you don't overdo it, or you'll look like a walking flower garden! We suggest adding a touch of humor to your look and wearing a pair of quirky heels to really show off your style. With these tips, you'll be the queen of the party!