Can You Wear Stilettos In Winter?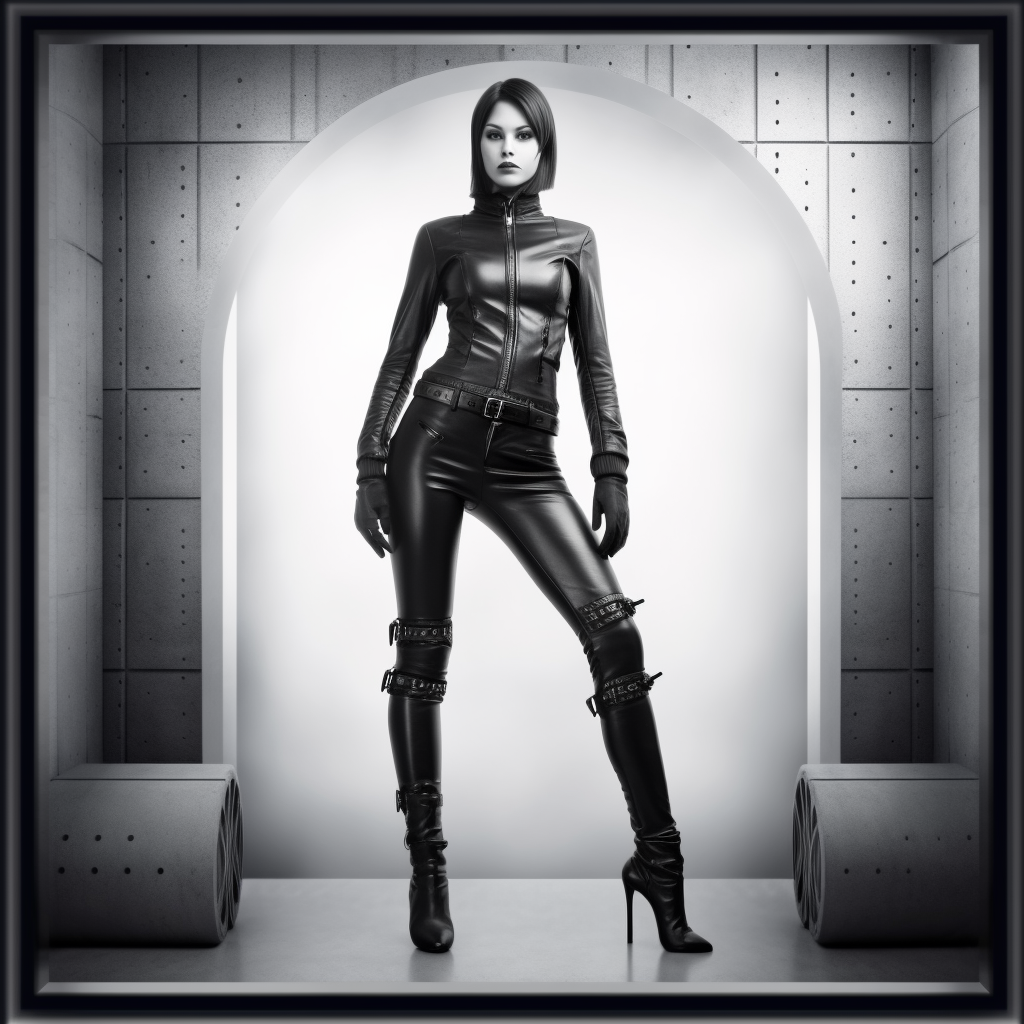 Have you ever wondered if you can wear stilettos in winter? High heels add an extra element of style to an outfit, but they can be a challenge in cold weather. There are still plenty of ways to make stilettos work in winter, though. In this article, we'll explore what to consider when wearing stilettos in winter, the different types of stilettos available, and alternatives to stilettos for the colder months. So grab your favorite pair of heels and let's get started!
Is it Possible to Wear Stilettos in Winter?
Wondering if it's possible to stay stylish in the colder months? Let's find out! With the right weatherproofing techniques and temperature control, it is certainly possible to wear stilettos in winter. Of course, there are a few caveats to consider when donning these elegant heels in cold weather. Before we discuss those considerations, let's explore the ways you can make your stilettos winter-ready. Look for shoes with a sturdy heel and sole to reduce the risk of slipping and sliding on icy surfaces. You can also invest in a good pair of weatherproof boots that are designed to withstand cold temperatures. You can also layer up with a pair of thick socks or tights to keep your feet warm. Additionally, make sure to use a protective spray or waterproofing wax to help your shoes repel water and snow.
Now that you know how to make your stilettos winter-ready, let's consider what to think about when wearing them in cold weather. Firstly, be aware of the surfaces you are walking on. Snow and ice can be a hazard, so it's best to avoid these areas if possible. Secondly, take into account the temperature outside. If it's too cold, you may want to opt for a more sensible winter boot. Lastly, consider the occasion. Stilettos may not be the most appropriate choice for a snowy hike, but they could be perfect for a winter wedding.
With the right precautions and preparation, you can stay stylish and comfortable in stilettos during winter. To get the most out of your heels, it's important to consider the weather, the occasion, and the surfaces you'll be walking on. Moving forward, you'll be able to make wise decisions about when to wear stilettos in winter.
What to Consider When Wearing Stilettos in Winter
When it comes to donning those high heels in the chillier months, it's important to take a few things into account. After all, safety is paramount during the winter months, and good traction is essential for any kind of safe walking. In addition to that, the materials of the stilettos should be winter-friendly, meaning they should be insulated, waterproof, and able to handle cold temperatures.
Speaking of materials, there are a variety of types from which to choose, depending on the look and feel you want to achieve. Leather is a popular choice as it tends to be more durable and can be treated with waterproofing solutions. Faux fur and velvet are also popular options for stilettos, as they provide extra insulation for the feet and help to keep them warm and dry.
No matter the style and design of the stilettos, the key is to make sure they are suited to the cold weather. If they are not, then they may not provide the necessary traction and insulation, making them dangerous to wear in the winter months. With that in mind, it's important to consider the type of stilettos you choose for the winter months carefully. Taking these considerations into account will ensure you stay stylish and safe in the colder months. Moving forward, let's take a look at the various types of stilettos available for the winter months.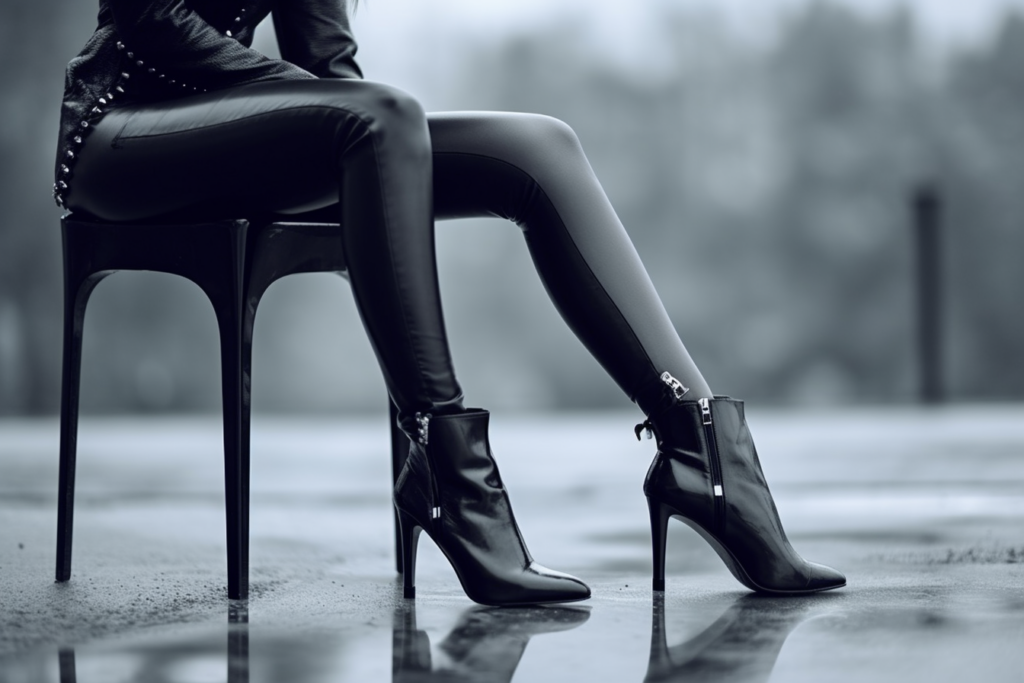 Types of Stilettos
Ready to up your winter wardrobe game? Check out the different types of stilettos available for the colder months! Whether you prefer the classic look of a patent leather pump or the daring style of a suede stiletto, there's a winter-ready shoe for every fashionista. Patent leather stilettos are always a great choice when dressing up an outfit. Not only do they look great, but their waterproof finish ensures that your shoes stay looking good, even in the snow. Suede stilettos are a great way to add a little texture and drama to your look. Wear them with a dress for a night out on the town or with jeans for a more casual style. No matter what type of stiletto you choose, you'll be sure to turn heads.
For those that want more comfort, there are also plenty of options. Look for styles with thicker heels and cushioning, as well as those with adjustable straps for a better fit. If you're feeling adventurous, try out a pair of wedge stilettos for a modern take on the classic. They can be dressed up or down, making them perfect for any occasion. With so many different types to choose from, you're sure to find the perfect pair of stilettos for your winter wardrobe.
No matter what kind of shoe you decide to go with, make sure you're prepared for the cold weather. Wearing a pair of thick socks or lining your shoes with a waterproof material is a great way to keep your feet warm and dry. With the right pair of shoes and a few extra precautions, you can look great and stay comfortable all winter long.
Heeled or Flat?
Deciding between heeled or flat shoes for winter can be a tough call, but statistics show that over 60% of women prefer heeled shoes for their winter wardrobe. Heeled shoes can provide more warmth for your feet and a bit more temperature control than flat shoes. Weatherproofing heeled shoes can be tricky, but if done correctly, it can be beneficial during cold and wet winters. For those who prefer the look of high heels but want to avoid the cold, there are ways to weatherproof your shoes with special boot covers or over-the-knee boots. If you do decide to wear heeled shoes in winter, it's important to make sure they are properly weatherized. This can include waterproofing with a spray or using special boot covers to keep your feet warm and dry. With the right temperature control and weatherproofing, you can wear heeled shoes in winter with confidence and style. Transitioning to the next section, it's time to look at some alternatives to stilettos in winter.
Alternatives to Stilettos in Winter
For those wanting to avoid stilettos in winter, there're plenty of alternatives to keep feet warm and stylish. Platform boots have been gaining popularity recently, as they provide a chic, edgy look that still offers comfort. The heel height is generally higher than stilettos, but the platform gives support and cushioning, meaning that your feet don't take the full brunt of the impact. Ankle boots are also a great choice for winter, as they can be paired with a range of winter outfits and provide both warmth and style. They can also come in a variety of heel heights, so you can choose one that's comfortable for you. Both styles can be worn with tights, skirts or jeans, meaning you can keep your feet warm and stylish all winter long.
If you're looking for something more casual, you could opt for a pair of flat boots, like Chelsea boots or combat boots. These styles are great for those who don't want to wear heels and can be paired with a variety of outfits. They also come in a range of colors and materials, so you can find a pair that suits your style. Additionally, they're comfortable and provide extra warmth in the winter months.
For winter days when you need to dress up, you could try a pair of mules or kitten heels. Both offer a touch of elegance, while still being comfortable and warm. Mules come in a variety of styles, from pointed toe to buckles and tassels, so you can easily find one that works with your outfit. Kitten heels are also a great option, as they offer a dressier look than flats but aren't as tall as stilettos. Whether you're going to the office or a night out, these styles offer an elegant look without compromising on comfort.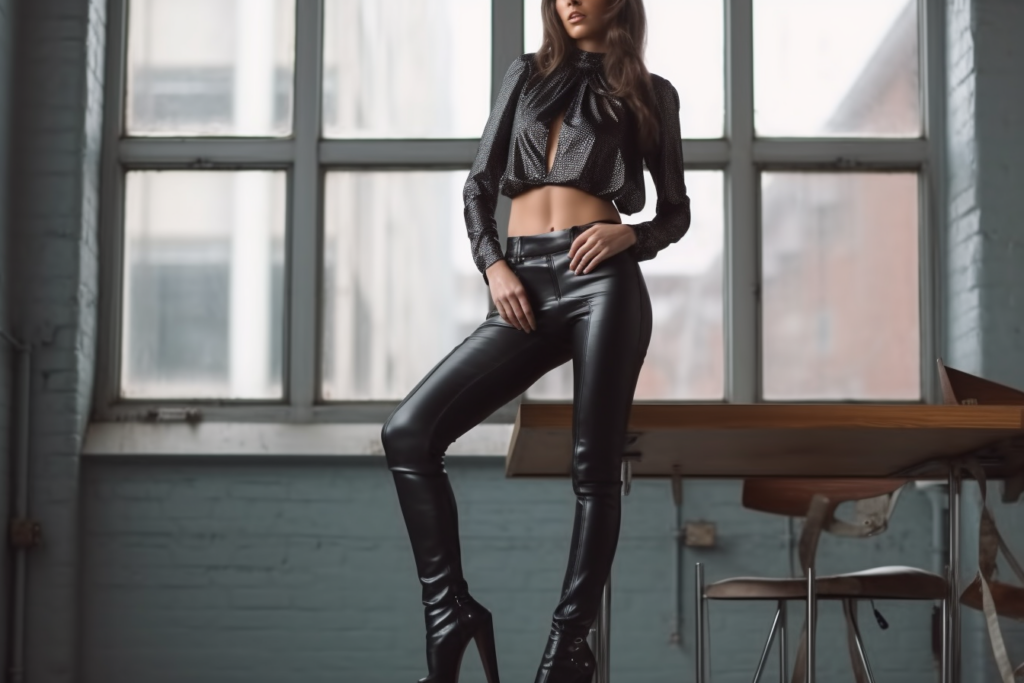 Conclusion
We've discussed the possibility of wearing stilettos in winter, what to consider, the types of stilettos, and whether to choose heeled or flat. Ultimately, stilettos can be worn in winter if the conditions are right. However, if the weather is unpredictable or temperatures are extreme, it may be best to opt for a different shoe. So, can you wear stilettos in winter? It's up to you to decide if the risk is worth the reward. After all, winter is a time to stay warm and look stylish all at once. Why not make the most of it?